What is upcycled food?
Upcycling—transforming waste materials into something with value—is a movement that's growing in all sectors of our economy, including food. Upcycling food is the easiest way for anyone to prevent food waste via the products we buy and can't use up.  Upcycled products prevent food waste by creating new, high-quality products out of surplus in your kitchen. It's an innovative approach to food waste because it is the first consumer product-based solution, making it highly scalable and economically sustainable.
Did you know that Canada is one of the biggest culprits in food waste? Research from Too Good To Go suggests we are one of the worst in the world.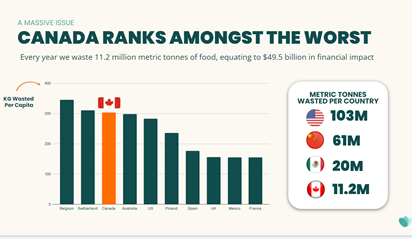 B.A.R.E Creations can help you play a part in reducing your food waste in 2022. Think about is as creating a new habit. Remember that banana that looks a little brown or, perhaps you have some mixed fruit left in the fridge but not enough for a full serving.  Adding it to our B.A.R.E Creations dry mix along with the last bit of yogurt in the fridge helps you use up leftovers and create some pretty innovative new granola bar or bite flavours. Not only are these bars tasty, they are super nutritious. You may have to jot down your ingredient list so you can make them again.
We can all play a part in 2022 in helping to reduce food waste. Each small step makes a difference, and we know food waste reduction is the number 1 solution to fighting climate change.
So, mix, roll and have a ball creating nutritious snacks. Simply add your leftovers, a favourite nut butter or syrup for so many endless possibilities. Check out our No-Bake Recipes…https://eatbarecreations.com/how-to-make/