B.A.R.E. Granola Bite Mix has been developed with a holistic approach that doesn't ignore flavour.  The first step is to choose your pairing.  Are you looking for some Spark?  Need to slow down and Exhale?  Maybe it's time for a Shift?  A protective Shield? Or loosen up and Liberate?  How about balancing with a Reset?
Ready in less than 15 minutes.  Mix, refridgerate. ENJOY!
SUGGESTED PREPARATION INSTRUCTIONS
How to make bites:
Empty entire contents of protein snack mix bag into large bowl
Mix all remaining ingredients together in a medium bowl. Warm ingredients in pot if not at room temperature.
Pour the liquid mixture into the large bowl with the dry mix and stir with large strong wooden spoon until all mixed thoroughly. Add more honey if you find mixture too crumbly.
To form balls use an ice cream scoop to form a ball and roll in your hands (If the bites get too sticky then simply wet your hands while rolling). Place on baking tray and let cool in the refrigerator for 15 minutes or until firm.
Transfer the balls back into the BARE Creations bag and reseal for storage.
How to make bars:
Repeat steps 1-3 above.
Pour contents of bowl onto a 11″ x 17″ baking sheet with sides flatten with a rolling pin

Cool in refrigerator for about 15 minutes and cut into 2″ x 3.5″ bars.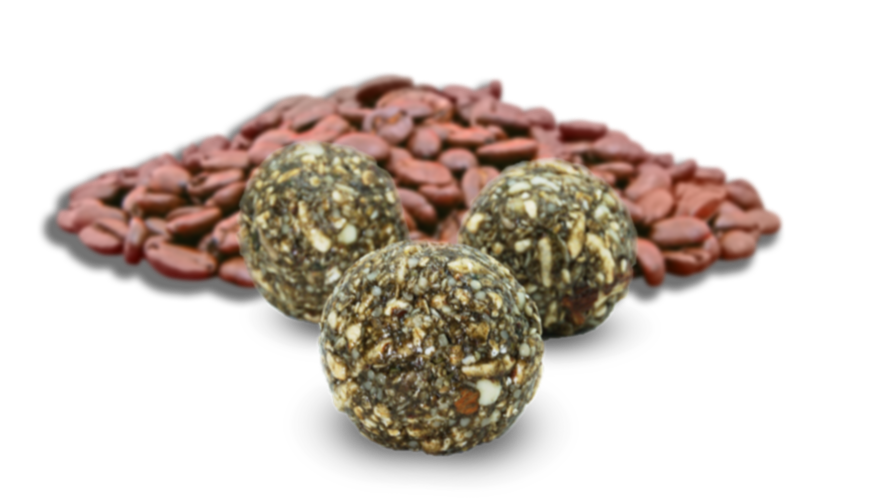 LIQUIDS
Applesauce, Banana Mash, Coconut Cream, Fruit Puree, Milk (Nut or Dairy), Water, Yogurt
HEALTHY FATS
Nut Butter, Seed Butter, Avocado Mash, Coconut Oil, Cream Cheese
SYRUPS
Agave, Apple Syrup, Caramel Sauce, Fig Paste, Maple, Molasses, Rice Syrup
B.A.R.E. CREATIONS is an innovative snack company dedicated to bringing you healthier snacks that taste great! Get the inside scoop right to your inbox. No spam. We Promise.
Delicious ideas + Special Offers + New Stores & Products